Penny's Mill is an attractive converted watermill, now over 200 years old. Nunney's mill is mentioned in Domesday – thankfully the guest accommodation is now decidedly 21st century. Nunney brook runs through the informal grounds and past the walled vegetable garden: a waterfall tumbles from the millpond sluice. A little bridge links the terrace to the Wilderness and shaded, private river-bank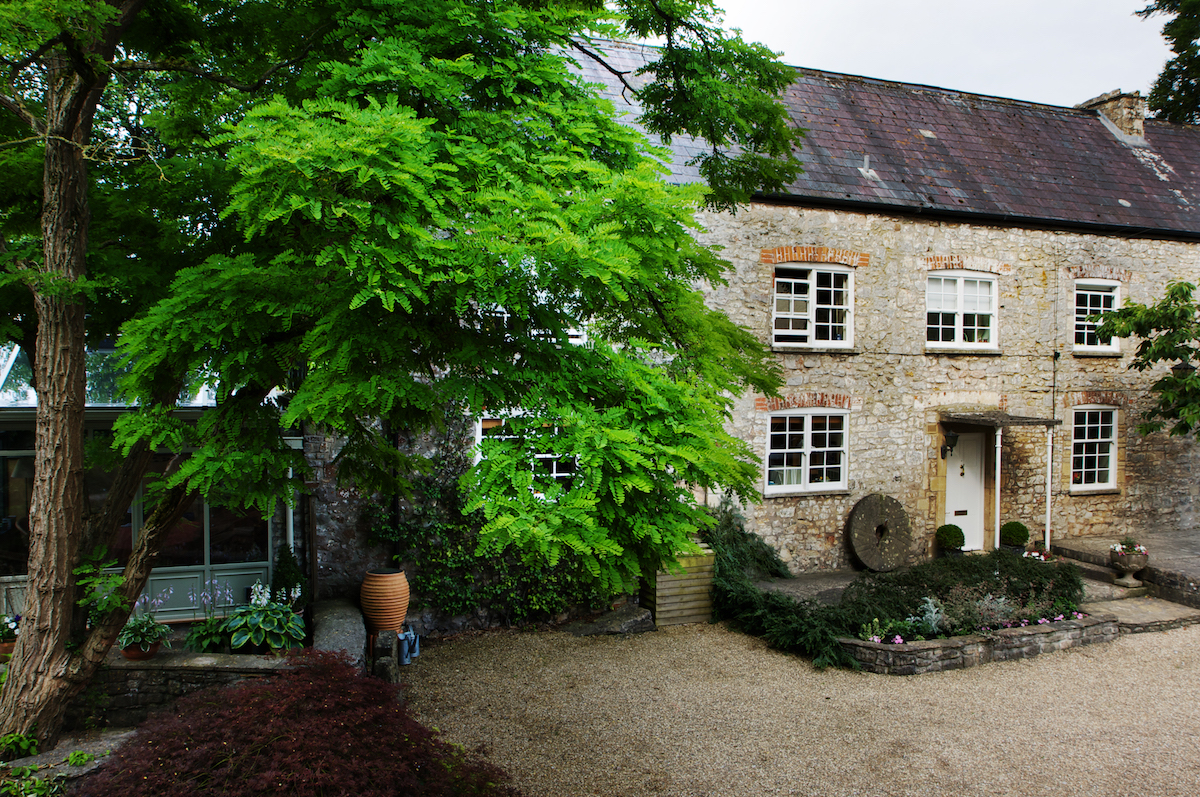 Domesday Book records the presence of mills in Nunney – we think ours is on the same historic site. Penny's Mill produced flour for the village and surrounding area for a couple of centuries, until it fell into decline in the 1930s
In the Sixties a local family rescued the building from decay and turned it into a beautiful house. They planted the cherry tree you see here – come and see its blossom in April!
We moved to Penny's Mill in the mid-Seventies and now, extended and brought into the 21st century, it welcomes guests from across the world
Breakfast
Breakfast at Penny's Mill is served at one big table in the conservatory, by the terrace overlooking Nunney Brook
We offer anything from the traditional full English breakfast to a slice of toast – you should not go hungry. We always have fresh fruit and Greek yoghurt as well as muesli and cereals. There are umpteen different teas, the coffee is fresh, real and unlimited, the loaves are home-baked. Rosie makes our jams and marmelade, wherever possible using fruit from the garden
We don't provide evening meals at Penny's Mill, but please ask us about options for dinner in and around Nunney
Space to Relax
Our guests are welcome to use the first-floor Drawing Room as a quiet place to relax. In winter we often light a welcoming log fire: in spring and summer the light pours in from three sides
Views extend across the vegetable garden and the tiled roofs of old weavers' cottages to Nunney's mediaeval church and castle; to the south, a wide picture window frames the Wilderness, and french doors to the west open onto the balcony and a terrace overlooking the tranquil millpond
The Drawing Room is a child-free zone. So if you want to catch up on the rugby while the kids do their own thing, this is the perfect place!
The Wilderness
From the paved terrace that skirts the conservatory, a wooden bridge leads to the "Wilderness" – the grass banks and shady woodland which form Penny's Mill's unstructured backdrop
According to the season you'll find snowdrops, daffodils, fritillaries, even tiny violets – there are bluebells in the wilderness, and wild garlic too
The waterfall from the millpond forms a deep pool: you might see trout in the dappled water just upstream, or glimpse a kingfisher on a low-level raid
Vegetable Garden
A pleasant place for an evening stroll – the walled vegetable garden provides herbs and produce for meals at Penny's Mill. Further private gardens run down Horn Street, with ancient weavers' cottages above
The south side of the vegetable garden is bordered by the Brook, and you may well spot wagtails or perhaps a dipper – they nest in the wall and love to perch on the stones among the running water